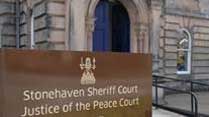 HAVE YOUR DAY IN COURT
Stonehaven Town Partnership Present
Stonehaven Court Building Open Days
Friday 4th December 4 – 9pm
Saturday 12th December 10 – 3pm
Come and have a look around the Court Building and give us your views on what you would like to see it used for.
Mackie Academy Mock Trial Team will be presenting a trial on Friday 4th at 5 to 6.30 (approx) in Court room 1
and on Saturday 12th at 12 to 13.30 (approx) Please let us know if you would like to be on the jury!
Rock Choir will be playing in Court room 2 on Friday 4th from 4.30 to 5pm.
Craft stalls will be available to buy Christmas presents and stocking fillers from.
Refreshments will be available on both days.
We look forward to seeing you there.