Stonehaven Town Partnership (STPWeb)
Welcome to the new web site of the Stonehaven Town Partnership (STPWeb) which is a Company limited by guarantee, formed in 2007 with the following objectives.
To create, develop and promote an overall strategy for the town and work in partnership with the organised voluntary sector and constituted groups, other community groups and the people of Stonehaven, Aberdeenshire Council and other statutory bodies such as recognised community planning partners, and any other appropriate bodies; to coordinate, develop, initiate, support and prioritise key projects in the town.
To be a central point of contact for all people and organisations in relation to all matters affecting the towns growth, inhabitants well-being, economic development and promotion of the towns attractions.
To contribute to the improvement of the quality of life in the town including its natural and built environment, heritage and culture and to encourage new opportunities, investment and diversity through inclusion, consultation and cooperative ways of working
On other pages you will find information on the local organisations that have joined the Partnership, a list of Directors and news on past and present projects.
STP is continually evolving and currently we are investigating the practicalities of registering as a charity as this would decrease the administrative workload, make us more transparent and give us access to wider funding possibilities.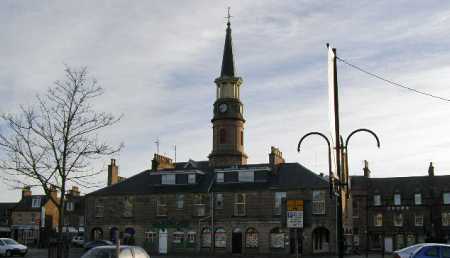 Image - Market Buildings and Market Square in Stonehaven Town Centre