Welcome to the web site of the Stonehaven Town Partnership (STPWeb).
We are a Scottish Charitable Incorporated Organisation.
Our Charity Number is: SC044314
Our Principal contact address is: C/O Connons, 50 Allardice Street, Stonehaven, AB39 2RA.
To find out more about STP please visit our 'About Us' section on this website.
On other pages you will find information on the local organisations that have joined our Partnership, a list of Trustees and news on past and present projects.
STP continues to be the central point of contact and coordination for all our member organisations, and through them, the people of Stonehaven in relation to matters affecting the town's growth and economic development, the well-being of inhabitants, and the promotion of the town's attractions.
With these contacts, we strive to create, develop and promote an overall strategy for the development and benefit of the community in the town;
To prioritise, develop, initiate, lead or support key projects in the town and
To disburse funds according to criteria set by the board to individuals and bodies who either live or operate in the area
Currently we have approximately 50 organisations, ranging from youth groups to churches, as members Each year these members elect up to 12 individuals to act as STP Trustees and these individuals take the lead in various projects which are deemed to be beneficial to Stonehaven.
In the last 24 months STP has been involved in
attracting the Caravan Club of Great Britain to the town to invest £1.7M in modernising the old Aberdeenshire Council Queen Elizabeth II caravan park and ensure that it becomes a major tourist attraction.
acting as a catalyst in resurrecting the Tolbooth Museum so now it is a major tourist attraction in Aberdeenshire with over 17,000 visitors last year.
participated in Planning for Real exercises which help determine the future shape of the Town.
overseeing the re-opening of the beach toilets.
providing emergency relief in the December 2012 floods in Stonehaven.
Supporting and assisting Stonehaven Festival and Events with Open Air in the Square 2013.
Securing the re-opening of the Bervie Braes, a task which is ongoing and which STP are leading.
However, we do not work alone and we have a good working relationship with Aberdeenshire Council, the Community Council other local rural partnerships and, of course, the local community.
If you have any ideas that would benefit the town or you can help STP to further its aims, or you wish to join STP please contact one of our Trustees.
Alternatively you can email us at or click on the Contact us page on this website.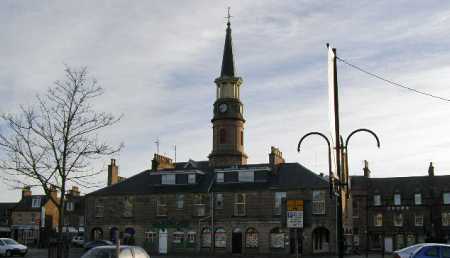 Image - Market Buildings and Market Square in Stonehaven Town Centre