We are now a SCIO. (Scottish Charitable Incorporated Organisation)
Our Charity Number is: SC044314
Our Principal contact address is: Sheriff Court Building, Stonehaven, AB39 2JD
Our declared charitable purposes are:
the advancement of education
the advancement of citizenship or community development

the advancement of the arts, heritage, culture or science

the provision of recreational facilities, or the organisation of recreational activities, with the object of improving the conditions of life for the persons for whom the facilities or activities are primarily intended

the advancement of environmental protection or improvement
Our Charitable Objects are:
advance citizenship and community development in the area defined by the post codes attached by
a) encouraging voluntary activity and increasing the involvement of individuals in community activity by assisting voluntary organisations, charities and social enterprises to develop their skills in, for example, managing and operating a community asset; and
b) to assist in the regeneration of the area through the improvement of the physical, social and economic environment in order to:
Manage community land and associated assets for the benefit of the Community and the public in general;
Provide, or assist in providing, recreational facilities, and/or organising recreational activities, which will be available to members of the Community and public at large with the object of improving the conditions of life of the Community;
Advance community development, including urban or rural regeneration within the Community;
Advance the education of the Community about its environmental, cultural, heritage and/or history;
Advance environmental protection or improvement including preservation, sustainable development and conservation of the natural environment, the maintenance, improvement or provision of environmental amenities for the Community and/or the preservation of buildings or sites of architectural, historic or other importance to the community.
However, please be assured that Stonehaven Town partnership will continue to be the central point of contact and coordination for all organisations, and through them, the people of Stonehaven in relation to matters affecting the town's growth and economic development, the well-being of inhabitants, and the promotion of the town's attractions.
From those contacts, to create, develop and promote an overall strategy for the development and benefit of the community in the town;
To prioritise, develop, initiate, lead or support key projects in the town and
To disburse funds according to criteria set by the board to individuals and bodies who either live or operate in the area
Currently we have approximately 50 organisations, ranging from youth groups to churches, as members (see STP Member Groups and Organisations). Each year these members elect up to 12 individuals to act as STP Trustees of the SCIO and these individuals take the lead in various projects which are deemed to be beneficial to Stonehaven.
However, we do not work alone and we have a good working relationship with Aberdeenshire Council, the Community Council other local rural partnerships and, of course, the local community.
If you have any ideas that would benefit the town or you can help STP to further its aims please contact one of our Trustees (see STP Trustees).
If you would like to join STP, please click Here.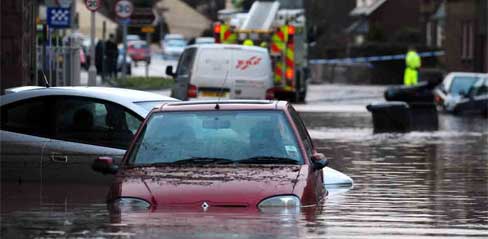 Stonehaven Floods - December 2012